Part 14: The James Hunter Trio at the "Fridge Bar", Brixton: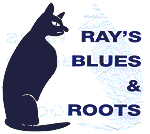 On Wednesday we made a rewarding expedition to Ray's Blues & Roots: the splendid jazz & blues record shop at 180 Shaftesbury Avenue. Mike Gavin's well stocked blues department downstairs boasted a special section of British blues in which I finally found Earl Green's soulful CD "Feel The Fire". And more stuff...
We spent a most entertaining evening with Big Joe Louis's family after which he kindly drove us to the next gig on our agenda: the James Hunter Trio at Brixton's Fridge Bar. Not exactly the regular R&B circuit but more of a youthful bar, the speakers providing a loud mixture of modern jazz, reggae and dance stuff.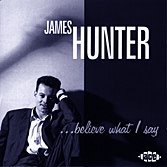 Downstairs we found James Hunter wrestling with a uncooperative Fender Twin amp. Finally he solved the problem by simple surgery: removal of the ailing tube. The gear on the 'stage' revealed a trio of the same appearance as David Purdy's: guitar/vocals, stand up bass and drums.
We had a beer, introduced ourselves to James and got his phone number in order to buy a copy of his ACE CD "...Believe What I Say" the next day - and waited.

But soon the trio got going, opening with "A Lover's Question" (a bit of a culture shock for the kids more likely, James said later), continuing with "Hallelujah I Love Her So", then a Johnny Burnette song, an early James Brown vehicle... All delivered with an impish enthusiasm. That voice just kills me. Shades of Sam Cooke, sometimes. He's simply so good it's scary.
I've heard James on stage before: (too) many years ago at the "Dublin Castle" under his earlier moniker: "Howlin' Wilf & the Vee-Jays". He was great then, sure, but since then he has refined the whole approach. His talents as a soul singer have developed immensely, and the ACE album proves once and for all that he, himself, is a true ace in the British R&B deck of cards.

We had to leave after the first set because of the tube station's time table, but the first set alone was so satisfying that we left the Fridge Bar dancing...
Come Thursday afternoon we phoned James and met up with him at Warren Street tube station, bought the CD and were invited to a cup of coffee at his abode. (How did you know we said YES?)
Gulping huge mugs of coffee we were treated to demo tapes of his songs for his forthcoming album on the German RUF label (to feature roughly the same crew as on the last one) - and to stories of his - and other musicians' - life & times on the London R&B circuit. Nothing to be disclosed here, dear readers, but let me just say that we left laughing hard, begging for mercy. James, you are a rascal.