[2011-03-23]
Fleetwood Mac: "Shrine '69" [live @ The Shrine Auditorium, Los Angeles 25/1 1969]
"The group's then-current single, "Albatross," shares the spotlight with a song the Mac did not record in the studio, Jimmy Rogers' "Lemon Squeezer," and "Before the Beginning" offers a preview of the band's next studio album, THEN PLAY ON. "Before the Beginning" is the set's highlight, although "Something Inside of Me" and "Need Your Love So Bad" offer strong competition.
Personnel: Danny Kirwan, Peter Green (vocals, guitar); Jeremy Spencer (vocals, piano); John McVie (vocals); Mick Fleetwood (drums)."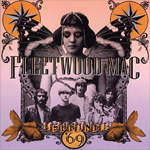 Son Seals: "Midnight Son"
"When guitarist/vocalist/songwriter Frank "Son" Seals unleashed his debut Alligator recording in 1973, his feral guitar work, scorching vocals and innovative songwriting immediately marked him as one of the major blues voices of his generation."
"His 1977 album, Midnight Son, was his true breakthrough. The album received widespread acclaim from every major music publication. Rolling Stone called it "one of the most significant blues albums of the decade." Robert Palmer, writing in The New York Times, called Son "the most exciting young blues guitarist and singer in years."