Description of www.fridhammar.com
Swedish website focusing on various aspects of the vibrant blues and roots music scene of the city of Gothenburg (a.k.a. Göteborg), Sweden.
Mainly written in the Swedish language (with some exceptions: see below).

The centerpiece of the website is the well visited "GigKalender": a detailed and daily updated calendar of live blues & roots music in the Gothenburg area.
In addition, the calendar page also features the following weekly updates
• thoughts from the Editor (Christer) on the local music scene in general and on live gigs in particular
• the Editor's favourite picks from his vinyl LP collection (today an archive)
• the Editor's recommendations of music available from the world of Spotify (today an archive)

The web pages are illustrated with photography by Vanja. Samples of her photography can be found below: the links defined as years lead to her photography documenting the Gothenburg Blues Party: the yearly local blues festival in Gothenburg. (She did not attend the 2010 festival because of a US trip.)

The photo albums present various aspects of live music photography.
Vanja's photographs can also be found on cd booklets, on music posters, in music magazines and on musicians' websites.

Christer & Vanja Fridhammar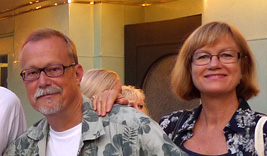 Two (happily married) music enthusiasts living in the city of Gothenburg (a.k.a. Göteborg) on the west coast of Sweden. A blue collar city (the city where the Volvo automobile is built!) with a pop. of approx. 500.000: a city with a vibrant blues and roots music scene.

Christer writes, Vanja photographs. Both travel. Current favourite subjects:
• Gothenburg's live blues scene (daily updates).
• The British blues scene (indexed history).
Pages in the English language
• Totta's Bluesband: the history of Gothenburg's prime blues band
• Knights In Blue Denim: an indexed but very subjective history of British blues from the 60's up to approx. the year of 2000