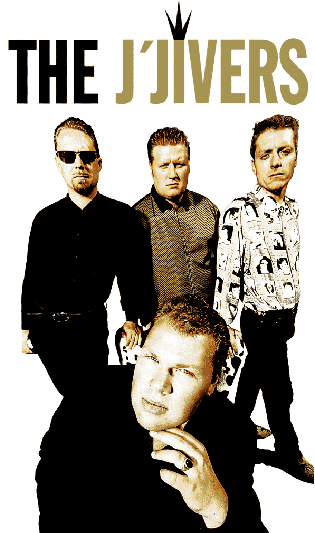 The stage: The "Nefertiti" Jazz Club, Göteborg, Sweden, Saturday, September 27, 1997.
This was my first meeting with the J'Jivers:
The singer, Marino Valle, dressed in black, dominating the stage physically. Wiping his perspiring face with a towel. Always in vain. Throwing it away over his shoulder across the amps. Grabbing the oldfashioned microphone, belting out his soul blues with a strikingly unSwedish voice. Throwing himself at the feet of a lady in the audience, kneeling, with a firm grip on the microphone stand. A true romantic blues hero. Will Sweden finally come up with a Bobby Blue Bland?
And - oh yes! - he plays a blistering harp, too...
Thomas Hammarlund, mister cool, calm & collected. Punctuating songs with thoughtful reverby phrases on his main axe, a Gibson 330 thru a blackface Super Reverb. Strong solos with a touch of B.B., a flash of Ronnie Earl. And then changing to slide, effortlessly, on "I Can't Hold Out/Talk To Me Baby".
Thomas Lindell, the man with the big box bass. Yes, he twirled it! Solid as a rock.
And speaking of solid: Ippe Panttila, the man at the sticks. To me just as impressive as Stoffe Sundlöf, big drummer of lamented Chicago Express.
Song list? A mixture of originals and well chosen classics. "Pouring Water On A Drowning Man" delivered with power and passion. Their version of old chestnut "It Hurts Me Too" would have made many a U.S. band proud. And who else blasts through an instrumental version of "Rockin' Robin"?
This was one terrific gig (which also featured the incredible Vidar Busk from Norway: Imagine that young Elvis Presley came back to earth and had spent all that time practising to Stevie Ray Vaughan videos? But that's another story...).
So I asked myself, who ARE these guys? I knew they had some connection with KnockOut Greg & Blue Weather, another amazing band I had thoroughly enjoyed at the Mönsterås Blues Festival last May. After their outdoor show in the sunny main street of Mönsterås I had immediately bought both their CD's from the gentlemen themselves. A sound investment!

All right: Time for some research!

---

A couple of days later I found myself sitting with a pile of magazines, mainly "Blåtryck" and "Jefferson". "Blåtryck" (from now on called "B") was issued by Stockholm Blues Society and boasted as editor Janne Rosenqvist, the sadly departed blues enthusiast. "Jefferson" (from now on logically called "J"!) is of course the magazine issued by Scandinavian Blues Association. Janne Rosenqvist was an immensely active contributor to "Jefferson", too.
The translations into English are my own...
So what did I find out, then?

---

Once upon a time in the town of Gnesta there was a blues band called Bluesväder (born in 1987 under the name of "Smisk" (approx. Swedish for spanking...). They hurriedly changed their name...

In Nov. 1991 at a gig at the small restaurant "Krogen Tre Backar", Stockholm, the lineup of Bluesväder was:
Greger Andersson - harp, guitar, vocals
Fredrik Gustafsson - piano, Hammond
Patrick Danielsson - guitar, vocals
Mats Hammarlöf - bass
Marcus Andersson - drums



Playing "smoking slide guitar, rolling piano and blues harp in the best Chicago manner. Suits everybody with an ounce of rhythm in their blood" as a news leaflet ("The Blues Guide") from Stockholm Blues Society's (S.B.S.) said.
I wouldn't doubt it!

---

A year later, when performing at S.B.S.'s "X-Mas Blues" in Dec. 1992, the line up of Bluesväder had changed. Thomas Hammarlund, guitarist extraordinaire, had replaced Patrick Danielsson during the summer of '92. Thomas had lots of experience and had lately played with among others T.C. & the Defrosters (one of Tommy Cougar's many guitar oriented outfits, often in an Albert Collins/Stevie Ray bag), 1989-1990 and 2 Tons of Heavy Joy, 1990-1992
(B 70/1994).

When the editor of "Blåtryck" (as was his custom) asked Thomas to name three favourite record cuts, he listed:
Ronnie Earl: "Baby Doll Blues", B.B. King: "Shake Yours" and Muddy Waters: "You Can't Lose What You Ain't Never Had" (B 68/1993).
---

In the spring 1993 Bluesväder issued "The Dangerous Blue Cassette: Look A Here": Four songs recorded live in Södertälje and the rest in a studio in Gnesta. A cassette to be sold at live gigs. On these recordings Patrick Danielsson is still in the lineup on 2nd guitar.
Janne Rosenqvist reviewed the cassette in Jefferson issue No. 99 (1/93) and called it "A rather strong debut with blues in the black tradition. The vocals are occasionally a bit theatrical...". He still considered it a good buy.
He preferred the studio takes, particularly Jimmy Rogers' "Going Away Blues" and Johnny Guitar Watson's "She Moves Me": his absolute favourite.


In July 1993 Bluesväder was featured with many others on the CD "All That Blues From Sweden! Volume One". (JEFFERSON/KOMMUNIKATION SBACD 12650). This CD was "Jefferson" magazine's way of celebrating its 25th birthday
(the oldest in biz).

---

On March 3 1994 Bluesväder made a great show with guest harpist Rockin' Jake from USA at the bar "Skitiga Duken" (approx. "The Messy Tablecloth" - great name for a blues joint!). They had also arranged an ambitious tour of Sweden together with Jake. Hasse Karlsson reviewed the gig in "Jefferson" (J 103/94), stating that Bluesväder "will be the next "big" blues band in Sweden".

No CD so far, but a cassette named "Mellow Yellow", BLUESVÄDER BV 03, recorded in 1994. Custom built versions of songs by Little Walter, Lazy Lester, Jackie Brenston, Sonny Boy Williamson etc. Reviewer Bosse Majling liked it very much! (J 105/94).

The band played at Notodden Blues Festival 1994.
And another prestige gig: "Jazz & Blues All Star Festival", July 8 1994 at Skeppsholmen, Stockholm.
Janne Rosenqvist particularly fell for the band's versions of Billy Boy Arnold's "I Wish You Would" and Guitar Slim's "Certainly All" (the latter with Thomas Hammarlund on vocals). Great vocals, guitar, piano...
(J 105/94).
---

And then a new outfit rode into town:
In September 1994 the Mavericks from Västerås played at "Kaos"
"...with excellent guitar from Anders Lewén. Best song was a wonderfully rough version of Jimmy Reed's "Shame Shame Shame". (B 70/1994).
On Oct. 22 1994 they made their debut at "Tre Backar":
"an immensely competent band playing fine 50's blues and 60's soul" (B70/1994).
Marino Valle - vocals, harp
Anders Lewén - guitar
Thomas Lindell - bass
Ippe Panttila - drums
Marino Valle also got his chance to name three favourite cuts in issue no. 70 of "Blåtryck":
Little Walter: "Off the Wall", B.B. King: "On My Word of Honour" and Wynonie Harris: "Good Rockin' Tonight".
---

At S.B.S.'s gig on Jan 5 1995 both bands were represented.
Bluesväder had now amended their name to Knock-out Greg & Bluesväder
and had a residency at "Skitiga Duken" in Stockholm every Thursday,
also presenting guest artists like Pelle Piano (of Rolf Wikström's band) and Sven Zetterberg (of Chicago Express).
Bluesväder also performed at "Kaos", "Lilla Maria", "Snövit", playing their
brand of music rooted in Chicago, Texas, Louisiana...

---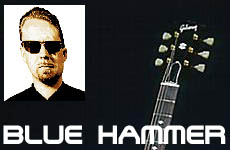 In February 1995 Thomas Hammarlund left Bluesväder and formed Blue Hammer, a band influenced by B.B. King, Johnny "Guitar" Watson, Roomful of Blues and T-bone Walker. They made their debut in February at "Cityhallen" on Drottninggatan in Stockholm.
Blue Hammer also obtained a residency: every Wednesday nite at "Restaurang Kaos". Plus gigs at "Fasching", "Tre Backar", "Amphion", outdoors in Kungsträdgården... They also issued a cassette of blues "from Bondegatan to Texas".
Thomas Hammarlund - guitar, vocals
Anders "Niten" Karlsson - guitar, vocals
Niklas Mattsson - saxophone
Hasse Eriksson - bass
Arnulf Ibsen - drums
---

Knock-out Greg & Bluesväder finally (?) changed their name to Knock-out Greg & Blue Weather and issued their first CD in December 1995: "Blues Disease" on LAST BUZZ RECORDS. The CD received fine reviews in "Blåtryck" and "Jefferson".
Let's quote their stylish home page:
"This session contains 13 tracks of which 6 are originals. 'Got my shades on' and 'My habits changed' are specially written for this CD by legendary bluesman Sven Zetterberg and the title-track 'Blues Disease' is an old obscure tune from the fifties by Tiny Kennedy."
Anders Lewén became the busy guitarist of both Blue Weather and Mavericks.
And Greg himself listed his three favourite cuts in "Blåtryck":
Howlin' Wolf: "Crying at Daybreak", Eddie Floyd: "On A Saturday Night"
and Big Walter Horton: "Easy" (B 72/1995).
Two good gigs of 1995: Mönsterås Bluesfestival and Åmåls Bluesfestival.

---

In the issue No. 108/95 of "Jefferson" the Mavericks advertised that they now officially had changed their name to The J'Jivers. Obviously the American band called Mavericks had threatened to sue them...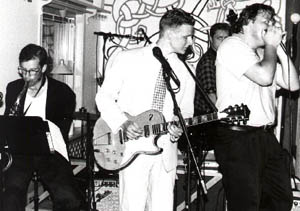 J'Jivers played at "Dalhall" in Åmål on July 14 1995. Let's quote Janne Rosenqvist again: "Marino Valle blows harp, sings and has charisma and authority. He has a voice which is even good enough for demanding soul ballads...".
"...a fine version of Willie Cobb's "You Don't Love Me"...
"...Anders played loads of good guitar on "One Room Country Shack"...
"..I was impressed and surprised by the interpretation of Clarence Carter's "Slip Away"... and..."the soul ballad "These Arms of Mine" finally floored me..."
(J 108/95).
Anders Lewén also got the opportunity to name three favourite cuts in "Blåtryck":
Otis Rush: "My Love Will Never Die", Bill Jennings: "Big Boy" and Johnnie Taylor: "That's Where It's At" were his choices. (B73/1996).

---

J'Jivers issued a cassette named "Dressed Up", JJMC95, reviewed in B 73/1996. Janne Rosenqvist noted:
"Swinging party-R&B, rocking Louisiana sounds, soul and good blues, like "One Room Country Shack" with fine guitar by Anders Lewén.
Marino Valle is a vocal find, even if I have heard him better on stage. Recommended buying".
The cassette was also reviewed by him in "Jefferson" 109/95 where he complimented their version of Lazy Lester's "Same Thing Could Happen To You", recorded in the style of Rockin' Sidney. He once again praised Anders Lewén's guitar playing prowess, noting influences of black postwar Texas and West Coast guitarists plus white musicians like Anson Funderburgh and Ronnie Earl.

---

In the same "Jefferson" issue (109/95) Knock-out Greg & Blue Weather's first CD "Blues Disease" BUZZ-8004 was reviewed by Janne Rosenqvist.
A very favourable review, noting original song by Greger and Anders: "A Losing Game", Sven Zetterberg's "My Habits Changed", Jimmy Rogers' "You're the One"...

---

More Festival gigs for Knock-out Greg & Blue Weather:
Molde Blues Festival (Norway) 1996.
---

"Jefferson" 113/97 featured the article "The tape's rollin' " courtesy Anders Lewén, describing Blue Weather's recording adventures at Delmark Studios in Chicago, December 1996. A new CD on the way!
---

And the Knock-out Greg & Blue Weather CD: "Doin' Alright" BUZZ-8006 on the Last Buzz label finally arrived. Jefferson 114/97 featured a glowing review by Olle Wallin.
I can only agree! In my opinion this CD beats so many American bands hands down - in their own game. Sorry folks!
---
No: I do NOT describe the two Last Buzz CD's in detail.
Not that they do not deserve it.
But they deserve to be bought by you, discerning reader!
So go visit the very boutique around the corner and harrass the owner until they are fully stocked!
And then you can listen, and listen, and listen...
---

Jefferson 114/97 reports that Marino Valle has received the Janne Rosenqvist Memorial Grant, established in memory of Janne Rosenqvist.
Janne Rosenqvist died prematurely in 1996. A great loss for his many friends
- and a great loss for the hard working local bands of Sweden. His interest in the Swedish blues scene was without comparison. And he was a relentless salesman of "Jefferson"!

---

So now it's 1997. What's up, doc?
Knock-out Greg & Blue Weather have established their own niche. With an enthusiast label like Last Buzz behind them the future's so bright they gotta wear shades...
They have recruited a new bassist: Hans Eriksson. To quote their home page once again:
"Hasse is the newest capture! He's been playing around with
bands from Stockholm for many years. Replaces Mats and
is now workin his ass off with the upright bass!"
Obviously Thomas Hammarlund has joined J'Jivers. I certainly hope that this does not mean the end of Blue Hammer? Never saw them, never even heard their cassette. Considering the artists they name as inspirations, I'm sure that I've missed something good!

And no CD from J'Jivers so far. Remembering the quality of the gig I described in the beginning of this article I can only say: "Long overdue!" Let's hope for 1998!!!

Christer Fridhammar (P.A.W.S. Pages)
Oct 6, 1997

---
...and the story goes on!
---

Press Stop: Oct. 14, 1997:
Marino Valle has today e-mailed us at P.A.W.S. that J'Jivers' first album is planned for release March '98. Start saving those pennies & dimes, folks! This should be a humdinger!


---

Stockholm Blues Society's newsletter ("The Blues Guide") advertises that Blue Hammer will appear at S.B.S.'s "Trettondagsaftonsblues" at Fasching, Stockholm on January 5, 1998.
Blue Hammer now lists the following lineup:
Thomas Hammarlund - guitar, vocals
Anders "Niten" Karlsson - guitar, vocals
Bengt Ahrenblad - Hammond organ
Tommy Cassemar - bass
Arnulf Ibsen - drums
Still kicking! Great!

---

January 24 1998:
Cold evening in Göteborg: a couple of degrees below zero and the wind ain't much fun either. But it's (almost) payday and the crowd at the cozy restaurant "Louice" is definitely in a payday mood. And if you look at the sign in the window you can see that red hot & blue music is gonna' defrost this town tonite! Marino Valle and Thomas Hammarlund, 2/4 of The J'Jivers, are at it again.

If you look closely at the audience you can recognize an assortment of local blues aristocracy: we've got Nightcats, Instigators, Dominators and a Blue Light!
With a few exceptions, this sure ain't the usual "Creedence!!!" shouting crowd.

And it was a great nite with two sets of soulful blues. And soul is Marino Valle's middle name. That's what sets him so apart from some of the Chicago copy cats.

Fortified by Maclay Genuine Stout we let ourselves be overwhelmed by these two guys on vocals, harp and trusty Gibson.

Standouts: A daringly romantic "Sea Of Love" (and I couldn't help having flashbacks from that torrid movie), solid versions of "I Can't Hold Out/Talk To Me Baby" and "Rock Me Baby", a real smoochy ballad praising the singer's "Love Star", a muscular "I Don't Believe". Official closer: the masterful soul of "Win Your Love". And the (inevitable) encore: "Feeling Good"! - which gave Marino an opportunity to display the huge power of his voice. Yes guys, we were feeling all right!

Thomas on his Gibson was solid, supportive and yet fluid - all at the same time. Backing up a twelve bar blues on a lone electric guitar can result in monotonous plodding, frustrating to anybody involved. Have no fear: this was true music! And the guitar playing sounded so full and complete that you involuntarily looked for his double...

Stefan Dafgård, once a Dominator and now a Blue Light, took over on vocals and harp for a few numbers. Another very impressive gentleman, although not as powerful as Marino. Still, who is?

Sez Christer
---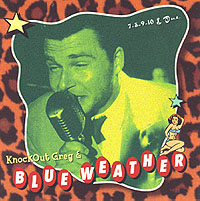 April 1998:
A new Knock-out Greg & Blue Weather album, this time on the Norwegian BLUE MOOD label:
"7-8-9-10 & Out" BMREC 005.
And they are still just as good!
---
More '98 news:
The J'Jivers change their name to The Soulmates! And launch their own web site! See link below! BLUE MOOD album forthcoming!
---
1999
---
So this is it, it seems.
Since all three bands now have their own informative websites, telling their own stories and giving you the goods 'straight from the horse's mouth' I am sort of putting this story to rest - for now anyway.
This was a fun story to reconstruct - perhaps I will enlarge it one of these days.
Thanks for reading it! And do follow those guys - avidly!
Christer in 1999
---
---
credits - contact info - links:
---
Colour photograph of J'Jivers kindly provided by the band.

Black and white photograph of J'Jivers from the Dalhall gig in Åmål borrowed from Åmåls Bluesfestival's web site as per their kind permission. Camera: Tony Berg.

---

Please check out the following links:


KnockOut Greg & Blue Weather: our own picture'n'links page. Leads on to the band's own home page and Anders' "Jefferson" article.


The Soulmates: the band's own home page.


Blue Hammer: our own info page leading to the band's own home page.
---
Links to "Jefferson", "Stockholm Blues Society", "Fasching" and "Nefertiti" can all be found on our website page

"Further On Up The Road: Blues In Scandinavia".

---

Click for Top of Page
---