[2020-01-28]

... på Nimbus Blues Incorporated
Bildcollage © P-O Hesselbom
---
Mångsidige P-O Hesselbom, välbekant för GigKalenderns läsare och många andra, mailade oss om ett nytt band i den blå genren: Nimbus Blues Incorporated. (F.ö. ett namn som förpliktigar: glöm aldrig Blues Incorporated!). Läs nedan, medan ni lyssnar här! Redaktör'n önskar kvartetten lycka till!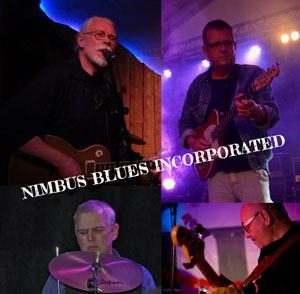 "Nytt band, rutinerade musiker. Playing the blues from the English and American Song Book.

Tord Jonson: Sång, Gitarr (Jukehouse Blues - legendariskt Falkenbergsband)

Jörgen Ericson: Gitarr (amerikanske soullegenden Tommy Hunt, Bertil Boo, Little Gerhard, Look Out, Los Desperados)

Lars-Olof Nyström: Bas (Spotlight, Alf Robertson, Queen Bee & Zydeco Amigos, Instigators, Look Out)

P-O Hesselbom: Trummor (Road Dust, Forever Blues, amerikanske rockabilly legenden Sleepy La Beef, Incredible Night Stomp, Stadsteaterns Rockorkester, Backateaterns Blues Orkester, Tough Times, Sture Elldin, Al Tehler Blues Friends, Freddie Nyström Power Trio, Sven B Good, Bara Blues, Looking Back, Men of the World).

Premiärgig på M/S Götapetter 28 februari."