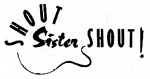 Big Joe Louis tells their story:

"SHOUT SISTER SHOUT was formed in 1988 by Brian Nevill (my old drummer).

Original lineup:
Chad Strentz (voc/gtr) - Nick Lunt (sax) - Jane Eller (organ) - Dot (gtr) - John Cook (d bass) - Brian Nevill (dr).

By the time the 45 EP (Love Bandit LB001 - detail of cover above) was recorded (April 1989) Jane had been replaced by Pete Farrugia (keyboards/gtr) and John Cook by Matt Radford (who's been with me since 1992).

They recorded a cassette (Love Bandit LBTC002) in November 1990 which featured Chad, Pete and Brian with Andy Neal (ex-Vee Jays) on guitar and Lyn Boorer on bass.

Lyn used to play with The Shillelagh Sisters and is the wife of Boz Boorer, who was Howlin' Wilf's manager and produced his first LP (Big Beat).
He was the guitarist for the rockabilly group The Polecats and currently plays with the pop singer Morrissey.

After Chad joined Paul Lamb in 1991 the band broke up.
Pete Farrugia now has a band called Mo' Indigo and Nick Lunt plays regularly with many bands like Big Town Playboys, James Hunter and The Big 6."