---

A P.A.W.S. Page

---

A brave attempt at history writing by Christer Fridhammar - page (1)
---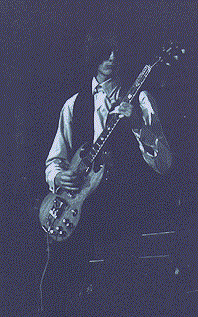 64-65: A gifted young guitarist named Bengt 'Bengan' Blomgren (b. 1948) is found playing it up with the Fanes pop group, doing cover stuff by Kinks & Pretty Things etc.

Later on the group transforms into Maybee and includes on bass the future jazz player and composer Kjell Jansson and forthcoming Totta stalwart Bernt Andersson (ex-Moody Types - his first band) on keyboards. And then:

67-70: The years of Ginhouse Blues Group (Bengt Blomgren gtr + Bernt Andersson vo, keys, harp + Kjell Jansson bs + Gunnar Pettersson dr). A milestone band. They make a five track studio recording, but unfortunately nothing is issued. What a shame!

Bengan elaborates: "This band was a free mixture of Chicago blues (in the Junior Wells & Buddy Guy 'Messing With The Kid' manner) and British blues (kinda Spencer Davis, some free stuff ā la Cream - but with a keyboard of course). Spaced out - not blues by the book. Some Booker T-ish organ instrumental as well. Bernt played some harmonica, too.
We were influenced by albums by Albert King and The Cream. Bernt was the record collector.
I played an SG-style Gibson through a Marshall. Used a slide already. It was difficult to get hold of a regular thick Gibson Les Paul Standard in Göteborg then. Stockholm had all the fun guitar stores!
On Wednesday January 8 1969 Ginhouse Blues Group were support act at a Jimi Hendrix Experience concert in Göteborg. That's where Calle Balonka snapped the photograph above left!" Thanks to Bengan for the loan!

70 or 71: Sacrifice, a shortlived powertrio with Bengt Blomgren gtr, Kjell Jansson bs and Christer Öhman vocals and drums. Original material by Christer. Anybody got a tape?

Bengan says: "Sacrifice sounded like "Nirvana meets The Cream"!
Afterwards, Christer and I went on to Nynningen, but Kjell wanted to get into jazz."
---
Back
Forward
---
Mail me at christer@fridhammar.com
---