---

A P.A.W.S. Page

---
Totta's Bluesband - and extended musical family (2)
---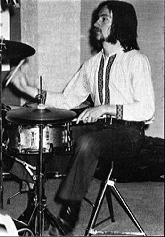 72: Bass player Kjell Jansson throws himself entirely into the world of jazz, evolving into a prolific jazz composer and player of renown. In 1972 he, together with drummer Gunnar Pettersson, become members of Gilbert Holmström's jazz group Mount Everest. Picture of Gunnar to the right from cover of the 1972 album "Mount Everest" PHILIPS 6316 024. Photograph © Rudi Jelinek.

Christer Öhman, Bengt Blomgren and Bernt Andersson join the progressive, political rock group Nynningen and are featured on their 1st album "Man mognar med åren".

72: For Nynningen's 2nd album "För full hals", bassist Nikke Ström (ex-Cads, Huntington Band) and vocalist Thorsten 'Totta' Näslund have joined, too.
Christer Öhman, however, has by now left the drum chair. For the first half of this album Dennis Lund has taken over - for the second half Mikael Gyllenstig.
Bengan: "The first time I played slide guitar on a record was on the title cut of Nynningen's "För full hals". My slide favourites then? Earl Hooker, Elmore James, Robert Johnson of course. Today folks like Ry Cooder and Sonny Landreth as well."
These were the heydays of the 'progg rock' (politically progressive rock) bands: a sign of the times. The Vietnam issue had fuelled a multifaceted youth movement of a socialist persuasion. People were genuinely concerned about international solidarity and political issues, at home or abroad. Naturally, many rock bands mirrored the fans and their thoughts, and their lyrics dealt with unemployment and the dangers of rampant capitalism - not with honeydew love.
---
Back
Forward
---
Mail me at christer@fridhammar.com
---