---

A P.A.W.S. Page

---
Totta's Bluesband - and extended musical family (3)
---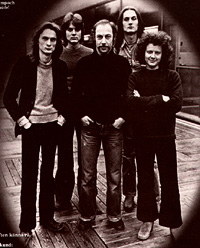 Nynningen featured a.o. founders Bertil Goldberg and Tomas Forsell plus our future TBB mainstays Bengt Blomgren, Bernt Andersson, 'Totta' Näslund (vocals, gtr) and Nikke Ström (bass).
Picture to the left is borrowed from the cover of the 4th Nynningen album "Äntligen en ny dag!" NACKSVING 031-4 (1976). Bengt Blomgren to the extreme left, Bernt Andersson to the extreme right (not in a political sense!). Photograph © Christer Hallgren.
The two groups Nynningen and Nationalteatern (the latter being a combination of political theatre and music) worked very closely together, the first manifestations being two 'New Year Cabarets':

73-74: "Åh Harre Jävvlar", and

74-75: "Kan jag få receptet", both performed at "Klubb Karl" in Göteborg and also in Stockholm.

74: Totta Näslund joins Nationalteatern, at first as a driver and as a deputy for Anders Melander.

76: Nikke Ström returns to the Göteborg scene and joins Nationalteatern. When away he has been busy on stage, performing at Klarateatern in Stockholm, with Riksteatern's performances of "Tolvskillingsoperan" and finally in Malmö ("Rockslaget" at Stadsteatern).
Nikke was also featured in Spjärnsvallet: a group of musicians including Bengt 'Beche' Berger (drummer and percussionist), Kjell Westling and Christer Bothén. A hot mix of musical idioms of India, Africa, Sweden and the U.S.

77-78: "Vi äro tusenden - Tältprojektet" (a joint venture of the Nationalteatern and Nynningen clan, feat. a.o. Messrs. Blomgren, Andersson, Näslund & Ström), tours Sweden as a political 'tent theatre', reaching a lot of people - in every aspect!
For fuller info, please check Nationalteatern's official web page: http://www.nationalteatern.nu. Redone late in 2001 - an excellent website, most informative.
---
Back
Forward
---
Mail me at christer@fridhammar.com
---