---

Brian Auger: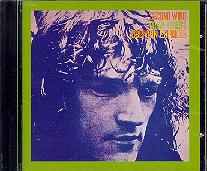 The man who played the harpsichord on the Yardbirds hit single "For Your Love"!
Which perhaps is not his main claim to fame after all...

Historically, his career looks something like this:
1) Brian Auger Trinity ('64):
Mr. Auger discovers R&B and leaves acoustic piano jazz for Hammond B3 outings. Forms the Trinity with bassist Rick Brown and drummer Mickey Waller.

2) Steampacket ('64 - '66):
starring vocalists like Rod Stewart, Long John Baldry, Julie Driscoll,
guitarists like Vic Briggs (later an Animal),
and once again Rick Brown on bass and Mickey Waller on drums.

3) Brian Auger Trinity '66 - '70:
Instrumental outfit with Dave Ambrose on bass, Clive Thacker on drums and (sometimes) Gary Boyle on guitar. Also periodically featuring Julie Driscoll on vocals. Big single hit with their (Trinity plus Driscoll) version of Bob Dylan's "This Wheel's On Fire" in '68. Unusual out-of-phase 'Swish-swosh' sound. An Auger speciality. Today you'd call it a 'flanger'.

4) Oblivion Express ('70 -'77):
Jazz/rock quartet with Santana overtones.
Album cover of "Second Wind" POLYDOR 2383 104 ('72) pictured above left:
an album seriously recommended by reader Jon Holden-Dye.
Changing lineup included:
Alex Ligertwood: vocals (on to, yes: Santana!)
Barry Dean: guitar approx. '70 - '74
Jim Mullen: guitar approx. '70 - '72
Jack Mills: guitar approx. '73 - '77 (feat. on Chris Youlden's 2nd album "City Child" in '74)
Robbie McIntosh: drums (on to the Average White Band as founder member)

5) And then in the late 70's Mr. Auger moved to California (San Rafael) and became a free agent, issuing solo albums and making occasional gigs/tours/albums with pure jazzers as well as with old buddies from the U.K. R&B scene:
Album with Chris Farlowe on vocals in '82.
Member of an '85 revival of The Spencer Davis Group.
Toured with Eric Burdon in '92.

---