---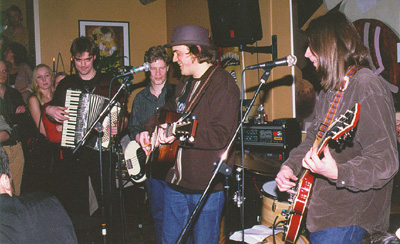 Göteborg in January, Friday the 16th 1998: The phone rang.
The caller was a friend of mine - a journalist of The Local Evening Paper. His story: He had previously received a cassette in the mail, presenting a new local "country rock band" for lack of a better label. Cassettes were common as colds - but this one was special. He had played it again and again. Outstanding. Not a trace of "Swedish country" as we know it. And now he had received tickets for their debut gig at Café Krasnapolsky, a popular downstairs place in Storgatan. How about us coming along? Sure: this could be right up our alley.

When our company arrived at the café I was stricken by the multitude of people in the audience - and their youth. True: Krasnapolsky caters for the young, but still... At a country gig?

When Alimony took the nonexistent stage the place was chock full. Periscopes or stilts were necessary to catch a glimpse of them - so we started a worming motion in their direction.

They proved to be six gentlemen: lead vocals/rhythm guitar, lead guitar, pedal steel, keyboards/harp, bass and drums. And yes - they were special. Their kaleidoscope of songs and sounds transported us from the Texas plains of Townes, Butch and Jimmy Dale to the Western pastures of the psychedelic rangers: Terry & the Pirates, New Riders...
All original material by the vocalist, Fredrik Öster, as far as we understood except for a few well chosen songs by Townes and Jagger/Richards.

I don't know how permanent this lineup is. Very permanent, I hope. Impassioned vocals, ringing chords and short shivering, silvery leads - and Gunnar Frick's sliding, soaring, swooping pedal steel. Plus the exemplary foundation laid down by the three others - lighthanded&footed and still solid. Soundwise one of the best gigs ever. The audience simply couldn't get enough.
Even my leather jacketed "seen-it-all-and-not-so-easily-impressed" compadres stomped and cheered wildly - alongside sweet young things of (I suppose) the regular café crowd.
Yes Robert, it was right up my alley. Thanks again for the tickets!
sez Christer


Fredrik Öster: vocals/guitar,
plus song writer/lyricist

Anders Lindström: guitar

Bjarne Karlsson: keyboards

Gunnar Frick: steel guitar/accordion

Tommy Moodigan: bass

Joakim Forsemalm: new drummer

(replacing Paul Sörensson. Earlier drummer Micke Rosén pictured below)
Another great gig took place at Jazzå Bar, Göteborg one fine Sunday evening, Febr. 22, '98. Which yours truly missed, down with the 'flu...


...but the grapevine said it was another solid success.
And Vanja took these photographs that night.