Quote from Zas Consulting Web Page (booking agency):

"James Hunter & The Jokers: Ex-Howlin Wilf & The Veejays front man. "The lad has some serious talents" (City Limits). "He sings like a dream" (Record Mirror). Soulful and soaring voice, often compared to that of Ray Charles. This is the band Van Morrison used in 1991 on a series of European dates, not as support, but as his backing group."
"Classy and assured soul, blues and shit-kicking, swing-tinged R&B from the well-regarded Hunter" said "Time Out", introducing his gig at 100 Club on Febr. 25, '98.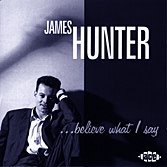 Quotes from the "Rhythm and Blues" web page once maintained by Peter Dean.
JAMES HUNTER: ...believe what I say
Ace - CDCHD 636

"Very much an artist of today, a British singer / guitarist (previously known as Howlin' Wilf!), Hunter has produced an R&B album on Ace Records called "Believe What I Say". A CD of consummate professionalism, he is one of a rare breed, a British artist who truly understands the R&B form. Lots of self penned material with a few standards thrown in, guest appearances from Van Morrison and Doris Troy (another unsung heroine??) and great arrangements - some might argue it veers towards pastiche but I just say, if that's true, give me more pastiche. If you're a fan of Bobby Bland, Sam Cooke, Ray Charles etc. give this excellent vocalist / guitarist a listen - prevent another unsung hero biting the dust!"
Quote from 'Blueprint' magazine 1/97 on his performance at the Burnley National Blues Festival:

"James' band consists of drums, double bass, tenor and baritone saxes, with himself playing the guitar sounds that reminded me of his Howlin' Wilf days. He perfectly captures the late fifties R&B and early sixties Soul sounds of Ray Charles, Chuck Willis, James Brown, Bobby Bland, Sam Cooke etc., yet he is an original with the best voice, except for Earl Green, of the British Blues scene.
His numbers included versions of hits such as the Coasters' "Searchin", Ray Charles' "Hallelujah, I Love Her So" and Sam Cooke's "You Send Me" as well as Chuck Willis' "From The Bottom Of My Heart" and Larry Williams'"Slowdown". He also played a few of his own songs which stood up perfectly against the hits."
(© Phil Woodthorpe)


DON'T MISS JAMES HUNTER'S NEW ALBUM "KICK IT AROUND" ON RUF RECORDS!!!!
says this website's editor.