Part 8: Other Scenes:
The Roundhouse:
Never spent so much time there. We caught Jan Dukes de Grey, Gin House, Hawkwind, The Purple Gang, Daddy Longlegs (whose single "Getting High Again" probably became an anthem for some of the audience) on May 24, 1970.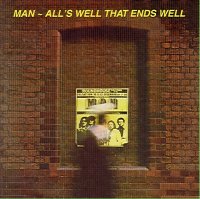 These days, the Roundhouse returns to my memory every time I take out my treasured vinyl copy of Man's "All's Well That Ends Well", recorded live at the Roundhouse in December '76. A brilliant live album - and the cover is filled with mementos of the Roundhouse. The Man crew are some of my all time favourites - the twin Gibson SG work of Micky Jones and Deke Leonard was outstanding - and if you don't think they knew how to play the blues, check out the number one track: "Let The Good Times Roll"! I'm glad to see that they still appear now and then at London venues in some shape or other. I'm coming over!
---

100 Club
in Oxford Street seemed a charmless place to us at the time. Remember: we had the plush Lyceum to compare with! Very good taste in artists, no doubt, but the interior made us think of a canteen or a department store café.

In later years I've visited the 100 Club again. I have enjoyed Freddie King & His Band with guest Stan Webb, as well as a few other artists. And when I read their promo flyers of today, featuring great jazz and R&B, I know I'd love to revisit - but I hope their budget has covered some redecorating by now.
---


---