---

The Jeff Beck Group:

One of my three heroes, along with Green and Clapton (how original!).
Guitarist for The Tridents. Met the spotlights with The Yardbirds as replacement for Eric Clapton who left Yardbirds hurriedly (recording single B-side "Got To Hurry"...) angered by the band's choice of pop gem "For Your Love" as new single.
Beck took The Yardbirds - and the rock world in general - by storm, playing a ferocious psychedelic blues.
Need a sitar? Beck plays it on his Tele!
Need a guitar hero? Beck delivers - even when his guitar is unplugged...Fans don't notice. They scream anyway!
Need a truly personal guitar style? Steal it from Beck! I remember an ad for a Jeff Beck album (pictured barechested and sweaty) with the legend: "More People Finger Beck Than Anybody Else!". True.
---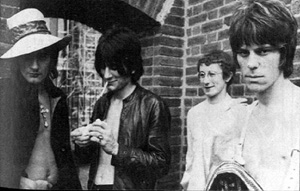 Beck has always loved being his own man. Having left the Yardbirds he made a couple of illjudged singles (with OK B-sides!) on the fervent advice of Mickie Most but then formed the Jeff Beck Group with Rod Stewart on vocals, Ron Wood on bass and (finally) Mickey Waller on drums (i.e. the lineup pictured to the right).
Nicky Hopkins on keyboards became group member later on.
Originally Ron Wood was to be second guitarist and Dave Ambrose (from Brian Auger's group) was meant to be the bassist, but Jeff asked Ron to switch to bass instead and Ambrose was out in the cold.
Viv Prince (of the Pretty Things), Aynsley Dunbar, Roger Cook and Rod Coons preceded Mickey Waller in the early stages. And Tony Newman replaced Waller on slightly inferior 2nd album. Six drummers!

Stormy relationship resulting in the first two albums below. Bluesy, brutal, great - and original. The first one, "Truth", is a monster with cuts like "Shapes Of Things" (a Yardbirds tune), "Rock My Plimsoul", "Blues De Luxe" and "I Ain't Superstitious".
Albums three and four are recorded with completely different outfit - despite group name.
Bob Tench on vocals. Heavy and professional - but didn't catch my imagination the same way.

---

Beck on Clapton, Guitar Player, Oct. '80:
"I've been seeing him recently, and I really take a whole different view on him now because I've managed to get myself into a position where I can enjoy his playing. He no longer has anything to do with my style - you know, at one time we were blues. And he was better. I think he can play blues better than I can because he studies and is loyal to it. I'm not loyal - I try to hotrod it up a bit and change it."

---


Albums issued under name The Jeff Beck Group:
"Truth" COLUMBIA SCX 6293 (1968)
"Cosa Nostra Beck-Ola" COLUMBIA SCX 6351 (1969)
"Rough And Ready" EPIC 64619 (1971)
"The Jeff Beck Group" EPIC 64899 (1972)

And then the rock/jazz fusion album "Blow By Blow" (1975) signalled the shape of things to come...
...and I enjoy these outings too - but this is not the time and place to rave about them (?)

This, ladies and gentlemen, is a CD set which should be a cornerstone of your Beck collection:
featuring lots of early and unissued Beck tracks
and is (at least originally) packaged in a beautiful carton, just like a shrunk Fender guitar case - the tweed one, of course.
A must for a serious Beck-o-phile!

---

Beckology
EPIC/LEGACY E3K48661 (1991)
1 - Trouble In Mind
2 - Nursery Rhyme (Live)
3 - Wandering Man Blues
4 - Steeled Blues
5 - Heart Full of Soul
6 - I'm Not Talking
7 - I Ain't Done Wrong
8 - The Train Kept A-Rollin
9 - I'm A Man
10 - Shapes of Things
11 - Over Under Sideways Down
12 - Happenings Ten Years Time Ago
13 - Hot House Of Omagarashid
14 - Lost Woman
15 - Rack My Mind

16 - The Nazz Are Blue
17 - Psycho Daisies
18 - Jeff's Boogie
19 - Too Much Monkey Business (Live)
20 - The Sun Is Shining (live)
21 - You're A Better Man Than I (Live)
22 - Love Me Like I Love You (Live)
23 - Hi Ho Silver Lining
24 - Tally Man
25 - Beck's Bolero
26 - Shapes of Things
27 - I Ain't Superstitious
28 - Rock My Plimsoul

29 - Jailhouse Rock
30 - Plynth (Water Down the Drain)
31 - I've Been Drinking
32 - Definitely Maybe
33 - New Ways Train Train
34 - Going Down
35 - I Can't Give Back The Love I Feel For You
36 - Superstition
37 - Black Cat Moan (Live)
38 - Blues Deluxe/BBA Boogie (Live)
39 - Jizz Whizz
40 - Cause We've Ended As Lovers
41 - Goodbye Pork Pie Hat
42 - Love Is Green
43 - Diamond Dust
44 - Freeway Jam (Live)
45 - The Pump
46 - People Get Ready
47 - Escape
48 - Gets Us All In The End
49 - Back On The Street
50 - Wild Thing
51 - The Train Kept A-Rollin
52 - Sleep Walk
53 - The Stumble
54 - Big Block
55 - Where Were You

Guitars and Amps Dept:
Check out our own Gear Page for info on Beck's guitars and amps.

Links:
Chrome Oxide - Music Collectors Pages: Jeff Beck w. Rod Stewart
A Jeff Beck Webpage (lots of good links)
Jeff Beck Bulletin
The Musicians' Olympus
Album Reviews

---